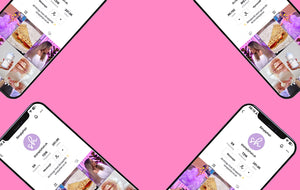 We're so LUCKY!
Being surrounded by such a creative community is such a blessing & we're looking to celebrate YOU!
We're tagged daily in SO much incredible content so we're putting together a content team to be able to reward those who are so loyal to our brand & share our passion for aesthetic tools!
We're looking to onboard 5 content creators to produce fun, fresh video & photo content for us to share with over 40,000 followers!
We're looking for 5 creators
Initally we're on the hunt for 5 keen individuals that have a passion for creating content, have an eye for what our followers will find engaging & LOVE our products as much as we do.
In the application below, you'll be asked to show us your BEST work, we want to see your favourite work, something you had FUN creating. We're all about expressing personality so show us YOU!
The technical bit..
We'll make this as short as possible because well, boring.. Who wants to read T&C's when you can be creating kick-ass hair right?
Applications close Friday 7th July, all applications will be considered & successful applicants will be contacted after this date.
As a reward for creating content for us, we'll gift you a huge monthly package of goodies you'll need to kickstart your creativity. Foils, combs, brushes, all the tools you can think of. We'll make sure you're stocked so all you've got to do is create hair magic.
In return we'd expect at least 1 Reel/TikTok a week & at least 1 image of you using our products, the content is completely up to you though at times we may have promotions & new launches we'd love to focus the content around.
You'll be required to sign a document outlining that you're happy to produce the content for us in return for the product & you're happy for us to use the images/videos you produce for advertising purposes.
Phew.. now that's over, let's get that application started.. Fill out the form below & we'll be in touch if you're successful.