Hair Extensions Are For Clients of All Ages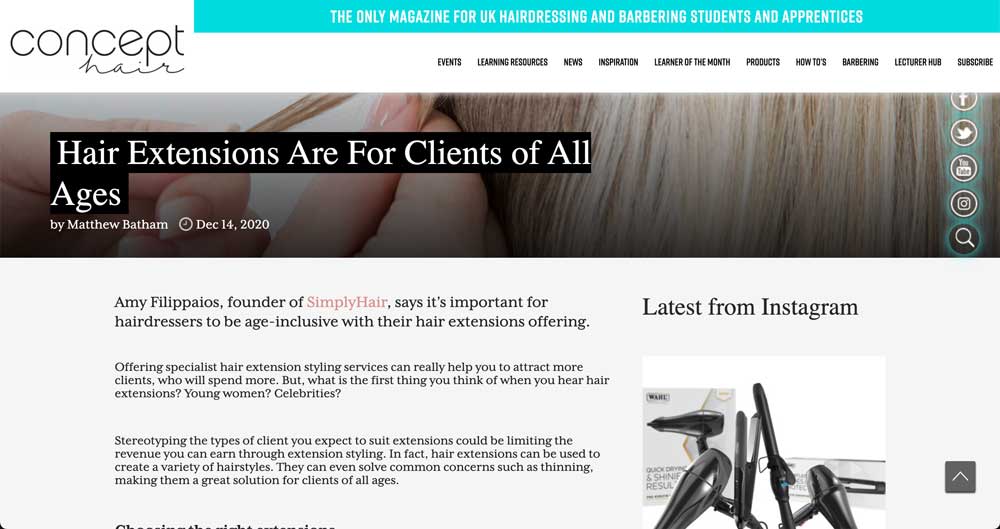 Read the article here.
Author
Amy
Hello, my name is Amy, and I am the founder and owner of SimplyHair and award-winning aftercare product brand, HairExtensionBFF. I have over ten years of experience in the hair extension industry, having first undergone my training as a hair extensions technician in 2010.

I started my career working as a mobile hair extensionist, fitting predominantly micro ring hair extensions, I travelled all over the county, transforming women's hair and lifting their confidence. After sourcing my own hair to use on my clients, and seeing how much they loved it and how high quality it was, I decided to become a supplier to other hair extensionists and salons nationwide, which quickly developed worldwide. I have also won the award for designing the Best Detangler at the 2019 Hair Awards and made finalist for Star Product for my Pre-Shampoo treatment.

SimplyHair's hair extensions are located in many salons throughout the UK and US, and are worn on national TV shows such as ITV's Dancing On Ice. We are proud to supply many celebrities and well-known figures including Stacey Dooley, Dannii Dyer, Maura Higgins, Pixie Lott, Denise Van Outen, and many more. We are fortunate enough to see our products worn by Saffron Barker for her photoshoots with Primark and Superdrug, as well as all of the stars of the Strictly Come Dancing Tour 2020.

Having an equal passion for both the hair extension industry and the small business community, I ensure that SimplyHair not only focuses on a quality product but also on valuable advice and guidance on growing a business. We want to see our community grow and thrive, and enjoy being a part of that with them.